He was precious, he was loud, I let him boss me around.  Words sung about someone I lost within the last couple years. A being who was so special to be. We shared such a strong bond even though he couldn't speak English or any language at all for that matter. He did talk a lot, I don't know what he was trying to say exactly, though I could guess. I wish I spoke meow. 
Kronos came into my life in 2015. I had been wanting a cat. Twice I had dreamed that I opened my front door and a cat came in and then that exact thing happened in real life. I've got a psychic thing going with them apparently. Growing up I had Mayble. She got a song of course (It's called Pyramid). 
I didn't hold back my love for Kronos when he came into my life. I was obsessed, and probably slightly pathetic— yes, I am a crazy cat lady.  I first met Kronos when going over to my now ex-boyfriend Jeff's house for the first time. He sat on me as we sunbathed together. He mostly was an outside yard cat at a house in Shoreline.  He meowed very often and loudly. Doors had to remain shut and he had to be watched so he wouldn't do anything naughty.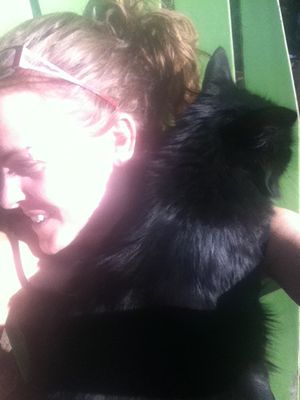 I ended up adopting Kronos as my own when Jeff moved in. He had to transition from being mostly outside to inside only. I lived in an apartment building on the second floor with no balcony. I enjoyed buying him a Christmas bow tie and a laser pointer and cat iPad app he played once. I took him to the vet which I think was pretty expensive. Turns out he had fleas and an infection from the fleas. That was why he had no hair on his belly. I definitely doted on him. I tried out all kinds of cat food, seeing which he liked best. We settled on primarily pouches of "My BFF" (my affiliate link if you want to try: https://amzn.to/3t5EJKs) They were a mess but he loved them so that's what he got. Jeff and I broke up. My bond with Kronos strengthened. Over time, his hair grew back on his stomach and he became more and more demanding. A guy I dated after Jeff would joke about how Kronos was a rags to riches story and the cat who had forgotten where he came from.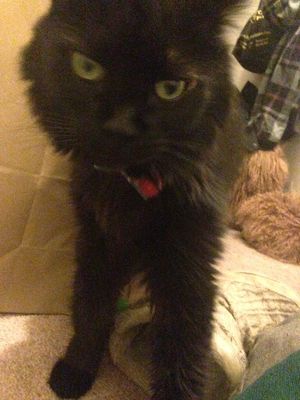 I considered Kronos a rescue cat since he needed a lot more care than he was getting. Jeff had also rescued him— from a worse situation. Kronos was the cat of a drug dealer in Seattle who neglected him. He had fallen out of a window as a kitten. He was left in bathrooms alone. It hurts my heart to think of him like that as a cute kitten. I wish I could have seen what he looked like as a tiny kitten. I never got to. Because of all the trauma he had growing up (I think this is why anyways), Kronos had a peeing problem. He would pee on mattresses, couches, towels, and rugs. It was very stressful and at the worst of times I considered finding somewhere else for him to live. Once, I even went to a pet adoption place to talk to them but I didn't make it in the door. I started balling as soon as I got out of the truck. There was no way I could part with him.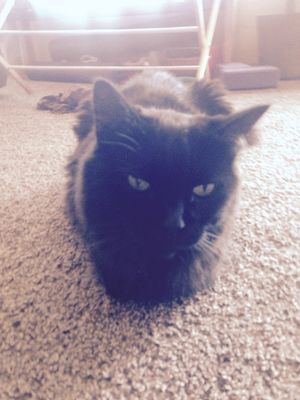 I moved from the apartment I had alone to one with a friend. It was an upgrade for Kronos. He now had a huge balcony to "parade" on that overlooked the 99 bridge. I was living there when the ride the duck accident happened. I had never seen so many 1st responders in my life. We lived there for about a year then went north to live with a new friend when things went south. In between places I took Kronos in my car a lot since I was avoiding my place. He came and spent the night with me at my friends in Gig Harbor. We were there on Valentine's Day when did this photo shoot(my friend Natalie took the pictures). 
The place I had Kronos in the Licton Springs neighborhood of Seattle was another upgrade for him. We had a yard and he went outside a lot but would sleep in my room on a window shelf. I loved waking up and looking up at him. His peeing troubles happened there. We had to get rid of a couch and I had to wash rugs a lot. My roommate was, not surprisingly, pissed (pun intended). I had told her about his problem before moving in and I bought new couches but it was still very frustrating. I ended up transitioning him to sleeping outside which was tough. He meowed so loud and for so long trying to get back in for a couple weeks then was good. He had a heated cat house with a front and back door on a raised bed with another bed underneath it. I called them his summer and winter homes. 
When I moved from there with my current boyfriend, we got a daylight basement apartment close by. This was where Kronos really came into his own. He patrolled the area and was adorable doing it. Lots of people walked by our front door and would pet him. My neighbors loved him and were happy to look after him while we vacationed. Some neighbors met him, then me. It was four-plex. I know he loved it there, but the next place was even better.  After 10 months, we moved to our Northgate townhouse. Kronos had his OWN yard. The first few nights there Kronos would wake us up at 4am. He had figured out where our bedroom window was and would meow up at us. It was cute but also annoying. He loved running and walking around the yard. We asked our neighbor to watch him when we were in Texas and the Caribbean. When we came back she had upgraded his cat house. He had an extra roof, a raised wooden platform, and another blanket. Our neighbor loved animals and would feed the raccoons which we had often as visitors. They never bothered Kronos, he didn't seem to notice them really. They would be right next to each other and he wouldn't even acknowledge them. One raccoon came in our house even and took some snacks. 
Kronos did not care about hunting. I saw him think about going after a bird for about 4 seconds total. He would get playful sometimes. He liked to be chased which was so cute.  I loved how vocal he was. He meowed a ton. I captured some on video and included them in the music video for the song I wrote for him called "Miss Him the Most". He was such a deep loving soul and so sweet. He knew when I was having hard time and needed cuddled—which he did especially one New Year's Day while I binge-watched Christmas movies with a massive hangover. As my life improved and I quit drinking and smoking, so did Kronos's. We shared so many ups and downs and I'm so grateful to have had him as a companion. Kronos was the most human-like pet I've ever encountered. He was precious and unique like a snowflake. I'm not even gonna try. I know I never will replace that guy. He is the one I miss the most.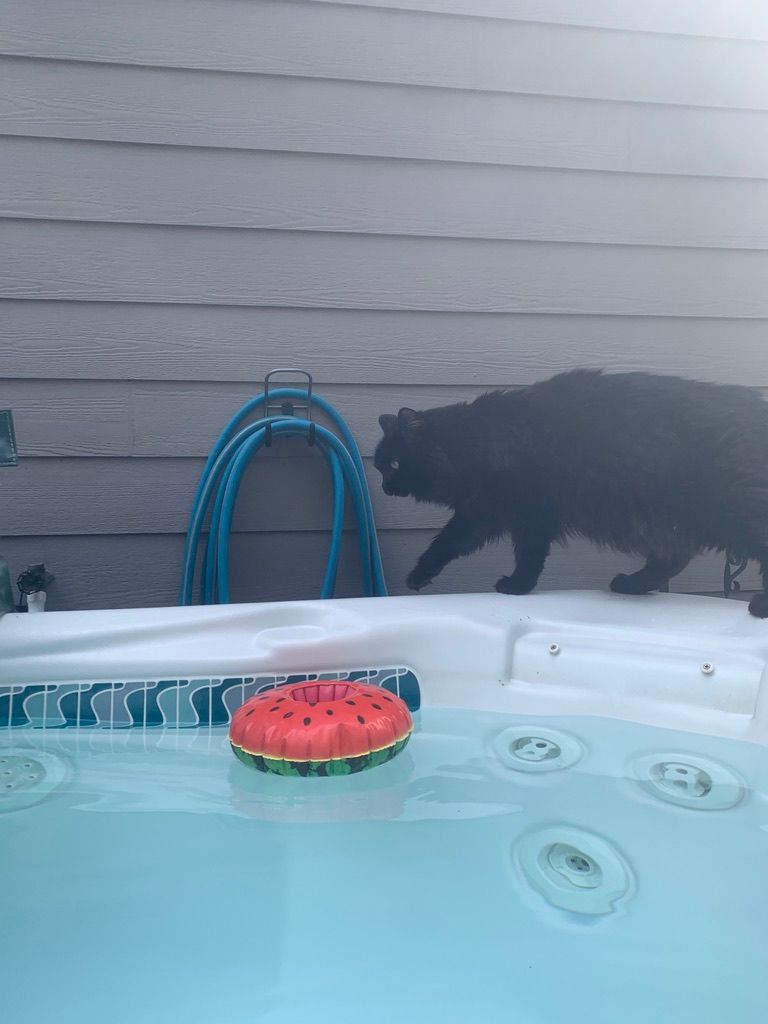 When Kronos started to die, I did my best to help him get better. Any food I could get him, twice daily saline injections, anything. I don't know how old he was. I thought I would have more time. I didn't. The end was so painful. I cried myself to sleep. I wanted to die it hurt so bad to lose him. He made one last move with us, saw the new place— the creek, the animals, and that was it. We buried him in the pasture. I made "Miss Him the Most" during this time. It was very helpful to deal with the trauma and pain, I hope it means something to you too. Listen and Buy :Miss Him the Most Watch: https://youtu.be/zUPj2E12_K0